Seinfeld Cast
The Seinfeld cast will go down in sitcom history as one of the most dynamic, friendly, loveable bunch on primetime TV. Never has there been a show more dynamic,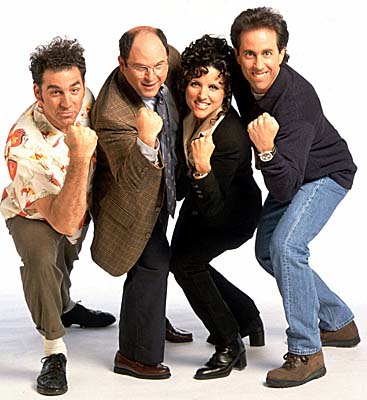 comedic, and, well, simple: it's the quintessential Seinfeld! Find out everything there is to know about Jason Alexander, Julia Louis Dreyfus, Michael Richards, Patrick Warburton, Wayne Knight, and everyone's favorite—Jerry Seinfeld. For diehard fans, here's your perfect resource to discover—and for some of you to rediscover—the beautiful chaos that makes up everyone's favorite show. It's just not Seinfeld without the whole gang. Learn everything there is to know about the Seinfeld cast.
Looking for a great gift idea for the holidays?
Check out our complete Seinfeld Gift Guide right now! Including T-Shirts, DVDs, and more!