George Costanza (Jason Alexander)
Looking for a great gift idea for the holidays?
Check out our complete Seinfeld Gift Guide right now! Including T-Shirts, DVDs, and more!
Mr. Self-loathing himself, George Costanza, while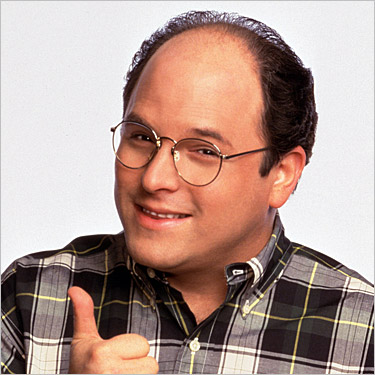 vulnerable and slightly neurotic, is still a loveable and necessary part of the Seinfeld series. Here's the scoop on George—learn everything you wanted to know about this silly, charming character. From idiosyncrasies to who this endearing character is in real life, here's everything you need to know about Costanza.
George Costanza, the character
George Louis Costanza is Jerry's friend on Seinfeld—arguably, his best friend. In addition, he's part of the whole gang as he is friends with Elaine and Kramer as well. He's a self-proclaimed "short, stocky, slow-witted, bald man" that seems to constantly, invariably fail at life. Not necessarily a pure idiot, George displays some intelligence through his line of work (albeit unsteady), interest in the American Civil War, and as Jerry's right-hand-man, confidant status. His character is loosely based on Seinfeld's co-creator Larry David.
George's idiosyncrasies
George is an insecure, neurotic, yet lovable character that is invariably dominated by his parents. He is self-aware of his nature, and has in fact blamed his parents "non-divorce" in attributing to his less-than-ideal, crazy nature. In other words, George might be the everyday late-30s, perpetual single man looking for acceptance, friendship and love. That's what makes him so likeable and comedic.
George is constantly fighting his tendencies to be dishonest, insecure, stingy, and selfish. In the episode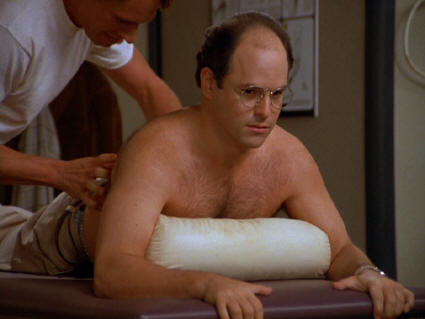 "The Opposite" Jerry Seinfeld instructs George to do completely opposite of what he would normally do. As a fact, George proceeds with the plan and lands a girlfriend plus his well-known job for the New York Yankees. It just seems that George can't divert bad luck. It's just in his nature.
"The Stake Out" prominently displays George's penchant for lying and being outright dishonest. In this famous episode, George takes on the moniker "Art Vandelay"—the charming importer-exporter. In later episodes, the comedic name reappears as Elaine's fake boyfriend's name in "The Boyfriend" episode. Later, "Vandelay Industries" reappears as the phony place of business George tells the unemployment office he's close to working for. Vandelay continues to reappear in episodes like "The Cadillac", "The Red Dot", and "The Bizarro Jerry". While George is one of the worst liars seen on planet earth, he redeems himself to the audience by ultimately getting caught.
The overall "George"
It's unexplainable, but even with George's extreme, undesirable behavior, there's still room to appreciate and love his eccentric behavior. Why? He's relatable. Viewers like knowing there's someone out there just a little crazier than they are—is that so bad? It seems like life continually surprises George. Seinfeld, though, just wouldn't be the same without him. George is the quintessential nutcase, but he does a good job at embracing the absurd and best of all, he's completely aware of his misadventures and personality flaws, all the more reason George is one of Seinfeld's favorite characters to love.
Jason Alexander, the cast member
Jason Alexander was born September 23, 1959 in Newark, New Jersey. Like the other Seinfeld cast members, Alexander is best known for his role as George Costanza in the sitcom series. He enjoyed an active career in showbiz throughout his life and continues to collaborate or appear on various shows including Curb Your Enthusiasm, Malcolm in the Middle, and Criminal Minds.
Jason Alexander pre-Seinfeld
Prior to his monumental success on Seinfeld, Alexander was a celebrated Broadway actor, winning the Tony Award for Best Actor in a Musical for Jerome Robbins' Broadway. He also enjoyed silver screen action in popular films such as Pretty Woman, Shallow Hal, Jacob's Ladder, and For Better or Worse.
Jason Alexander post-Seinfeld
After Seinfeld wrapped up its final 9th season, Alexander has kept busy in showbiz, first markedly by his less-than-popular return to primetime television. In his ABC sitcom, "Bob Patterson" was unfortunately cancelled just five episodes later due to a weak viewership. Later, Alexander collaborated and starred in the sitcom "Listen Up!" which also was cancelled within its second season.
Alexander still kept up with show-business despite his less-than-favorable attempts at gaining primetime market share. Later, Alexander worked on the LOL Sudbury Comedy Show in Canada, launched the "Jason Alexander's Comedy Spectacular" stand-up show in Australia, and "The Donny Clay" show in Las Vegas.