Cosmo Kramer (Michael Richards)
Looking for a great gift idea for the holidays?
Check out our complete Seinfeld Gift Guide right now! Including T-Shirts, DVDs, and more!
Seinfeld would be simply incomplete without our beloved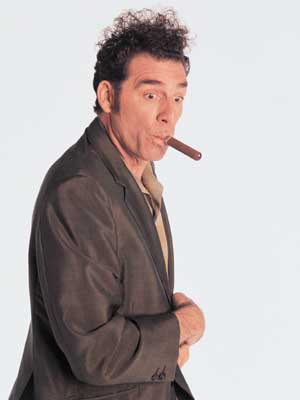 Kramer. While Cosmo Kramer is arguably the craziest of the Seinfeld bunch, he brings a great deal of quirk, lovability, and interest to the show's premise. Funny, eccentric and wild, Kramer is one of the most favorite characters on Seinfeld because he's so dynamic to the show.
Cosmo Kramer, the character
Kramer is Jerry's neighbor, residing across the hall in Apartment 5B. Friends by association, he is also buddies with George Costanza and Elaine Benes. Being the free spirit that he is, Kramer holds no definitive job—he is able to survive mysteriously, holding odd-and-end jobs that never last.
Kramer is trademarked for his outlandish hairdo and retro style. He's constantly sporting fashions straight out of the 70s. His interests include Cuban Cigars, a penchant for skepticism and unreasonable expectations, straightforwardness, and of course, his high-energy bursts through Jerry's front door.
Kramer's Idiosyncrasies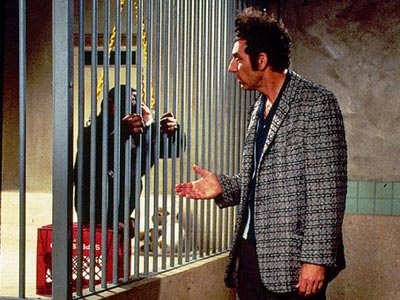 The Kramer is not a bashful character—in fact; he's arguably the most straightforward, wildly dispositional character on the show. For instance, on the episode entitled "The Parking Garage" he's caught urinating in a parking stall simply because, well, he has to go.
He's unaware of rules, too. In "The Package" he commits mail fraud knowingly but without any sense of worry, remorse, or cause to refrain from it. Kramer, in one word, is outlandish.
The overall "Kramer"
Kramer's honesty is brutal. He is known to be full of the truth, without an ounce of tact. In "The Nose Job" he famously tells George's girlfriend that she's just as pretty as anyone else, but should consider a nose job to become prettier. Other personality features include onomatopoeia, phobias ranging from mice to clowns, and suffering from seizures. As an indispensible part of Seinfeld, Kramer was one of the funniest and quirkiest characters, not just on Seinfeld, but in sitcom history.
Michael Richards, the cast member
Michael Anthony Richards was born July 24, 1949 in Culver City, California. Kramer, Michael Richards, was a great contribution to the Seinfeld series. He added a great deal of valuable comedy and content to the show. Though the show Seinfeld will remain as his greatest contribution to showbiz, Michael "Kramer" Richards still deserves his crowning spotlight in primetime TV pop culture.
Michael Richards, before he was Seinfeld's Kramer
Prior to being famously cast as Cosmo Kramer, Michael Richards enjoyed a career as a stand-up comic, touring nationally and eventually earning his debut primetime spotlight on the Billy Crystal TV Special, which aired on cable TV. After monumental success on the show and rave reviews, Richards landed a regular spot, appearing regularly on ABC Friday night airtime.
In addition to his successful career as a stand-up comedian, Richards also appeared on other popular TV shows even prior to Seinfeld's pilot. Cheers, Miami Vice, and Night Court all enjoyed Richards' presence and contributions. Later, he would go on to star on the silver screen in such hits as Problem Child, Airheads, UHF, Coneheads, I Married an Axe Murder, and Young Doctors in Love.
Kramer, Michael Richards, Post-Seinfeld
Immediately following the series finally of Seinfeld, Richards launched his own show entitled The Michael Richards Show. Unfortunately, the show was not a success and did not finish its first season.
Later, and most famously, Richards was known for his Kramer racist rant. In an incident occurring on November 17, 2006, "racist Kramer" was videotaped on a cell phone explosively ranting to African-American hecklers in his audience after repeated interruptions and heckling. In his routine, he claimed to act even more outrageously in order to "neutralize" the situation. Unfortunately, his methodology backfired, and media got wind of his antics. After public outcry over his PR blunder, Richards formally apologized to his fans and even civil rights gurus Al Sharpton and Jesse Jackson.