The Soup Nazi (Larry Thomas)
Looking for a great gift idea for the holidays?
Check out our complete Seinfeld Gift Guide right now! Including T-Shirts, DVDs, and more!
The Soup Nazi is one of Seinfeld's most popular and acclaimed episodes. Strict, uncouth, yet surprisingly lovable, the Soup Nazi steals the show with his fantastic soup recipes yet uncanny, rude treatment of his customers.
Soup Nazi, the character
In this famous role, the Soup Nazi owns a soup stand and is known for his outlandish treatment of his customers. If a customer does not order according to his own personal preferences, the Soup Nazi immediately relinquishes his soup and refuses to sell.
When Elaine refuses to order the soup according to how the Soup Nazi wants it to be ordered, she is banned from the soup stand for one year. Meanwhile, Elaine purchases an armoire which then gets lost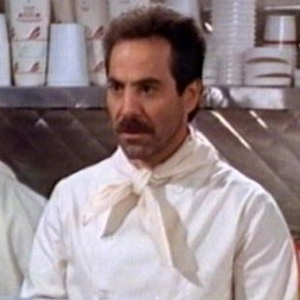 while Kramer watches it. As Kramer explains his loss to the Soup Nazi himself, the Soup Nazi kindly offers Kramer his own personal armoire as a token of empathy for his loss. Later, Kramer gives the armoire to Elaine, who then finds the Soup Nazi's recipes hidden inside. Elaine returns to the Soup Nazi, and he is stricken with grief knowing Elaine will put him out of business. He then sullenly returns to Argentina to make soup in his home country.
Overall, the Soup Nazi is a very bold character with a lot of brash, intrepid behaviors that are just downright quirky. That's why he's a great fit with the rest of the Seinfeld gang!
Larry Thomas, the cast member
Larry Thomas is most known for his role in Seinfeld as the Soup Nazi. His outstanding performance earned him an Emmy Award nomination.
Thomas has since had multiple credits on movies and television shows such as Austin Powers, Scrubs, Drake & Josh, and Arrested Development. He has also been featured in a variety of cameos including playing a "food cop" in a commercial produced for the Center for Consumer Freedom and as Osama bin Laden in the comedy film Postal.