Buy Seinfeld gifts now!
Birthdays, Anniversaries, Easter baskets, Festivus, yada, yada , yada—it doesn't matter. You can buy Seinfeld merchandise no matter what the occasion. We will admit that buying anything for Festivus is against Frank Costanza's rules, but we also won't tell if you slip a Seinfeld DVD in someone's stocking!
Here's to a great Seinfeld celebration. Why not consider the following gift items? We promise—from casual fans to the most dedicated diehards, you cannot go wrong with Seinfeld gift-giving.
Amazon.com is the best resource for individual Seinfeld Season DVDs and Seinfeld – The Complete Series. Why do we love DVDs as great gifts? They please anyone: dads, uncles, aunts, brothers, sisters, co-workers—the list is limitless. Check out available DVDs now!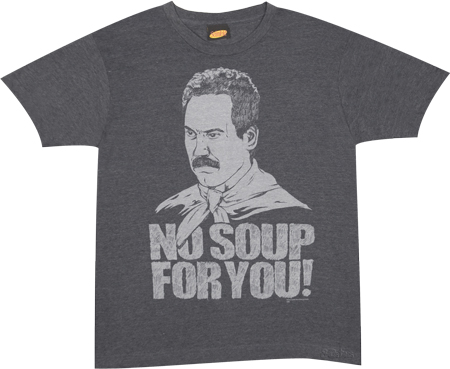 Kramer on your chest is a sure crowd pleaser—chicks will dig it! That's why it's the perfect gift for your cousin, brother, or co-worker that has a great sense of humor. From Kramer, to George, or the whole gang, there's a Seinfeld t-shirt to fit anyone's taste. Check out available t-shirts now!

We love family gifts, so if you have a special bunch and need the perfect group gift, consider a Seinfeld board game. Popular games include Scene It? Seinfeld, Monopoly Seinfeld, Seinfeld Trivia Game by Pressman Toys, and Seinfeld Clue. Your neighbors need a gift, don't they? And, it's a great housewarming gift, too.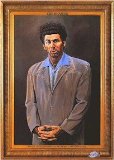 For the quintessential Seinfeld fan, a poster is a great way to add a little flair to your office space, bedroom, or "man cave." For all the greatest Seinfeld fans, consider gifting a unique, funny Seinfeld poster. It's a great gift to consider for gift exchanges at work, home, or at family functions. Check them out now!