Elaine Benes (Julia Louis Dreyfus)
Looking for a great gift idea for the holidays?
Check out our complete Seinfeld Gift Guide right now! Including T-Shirts, DVDs, and more!
Elaine Benes, the world's favorite nut, provides the

feminine balance, the female introspective, and the womanly voice in a world full of men. Elaine hangs with the guys; she's one of the guys' guys and is a confident, what-you-see-is-what-you-get kind of woman. She is intelligent, funny, and, like most all other Seinfeld characters, slightly neurotic.
Elaine Benes, the character
Elaine Benes is one of Jerry Seinfeld's best friends. She is also warm and fuzzy with George and Cosmo Kramer as well, mainly by association. His strongest friendship, by far, is that with Jerry. As Jerry's ex-girlfriend, Elaine knows him well and adds a good dimension to the show that allows the viewer to better understand Jerry and the rest of the characters on Seinfeld.
Elaine's idiosyncrasies
Normally one to be assertive, confident and intelligent, Seinfeld Elaine still has those loveable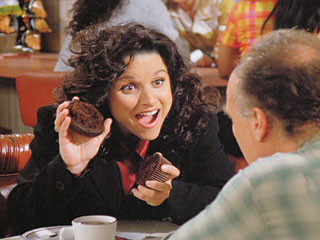 "Seinfeldesque" qualities that make her a long-standing favorite character. For instance, Elaine doesn't take baloney from anybody. She's very firm in her beliefs and she's proud of it. Elaine is edgy, superficial, and, well, she's neurotic too. At the end of the day, she simply cannot help it. There's a little neurotic behavior in all of us—that's why Elaine is so easily relatable, especially by female viewership.
A prominent quirk is Elaine's serial dating. More or less, Elaine does not settle. That's why she's constantly allowing people in and out of her life—with confidence and humor, albeit a little bittersweet. Elaine (Seinfeld episode "The Stall") demonstrates her knack for the vain. When her boyfriend Tony gets into a rock climbing accident and mangles his face, she admits to Jerry she simply cannot date him any longer.
In the famous "Soup Nazi" episode, Elaine shows her tough side—and her penchant for making enemies. After refusing to follow the rules imposed by a New York City soup stand owner, she becomes his long-awaited enemy. Later, after finding his soup recipes in an abandoned armoire, she triumphs over her newfound, business-crushing secrets.
Julia Louis Dreyfus, the cast member
Julia Louis Dreyfus, pre-Seinfeld
Julia Scarlett Elizabeth Louis Dreyfus was born January 13, 1961 in New York City. She started her comedic career with a bang, as one of the regular cast members on Saturday Night Live, one of the most highly- and critically- acclaimed comedic television shows. It's no wonder her success as a comedienne was highly praised while portraying Elaine Benes. During her successful TV career, she was later cast as Elaine Benes on Seinfeld.
Julia, post-Seinfeld
Louis-Dreyfus won an Emmy award, a Golden Globe, and five Screen Actors Guild awards for her comedic contributions to Seinfeld. After completing nine wonderful and wildly successful seasons with the sitcom, Dreyfus continued to find success in primetime TV. Though not nearly as successful as her Seinfeld career, Dreyfus still had the most successful post-Seinfeld career on primetime television. The New Adventures of Old Christine lasted five seasons and she won her second Emmy. Not bad for you, Julia! While her earlier show, Watching Ellie, only lasted two seasons, her most memorable contribution to television remained as Seinfeld.
Recently, Julia received her very own star on the Hollywood Walk of Fame.