Episode Guide Season 3
Looking for a great gift idea for the holidays?
Check out our complete Seinfeld Gift Guide right now! Including T-Shirts, DVDs, and more!
THE NOTE
(Episode 18): Jerry's massage therapy is covered by his insurance company because his dentist (Roy) wrote a note prescribing the rub downs as a medical necessity. George and Elaine decide to make similar arrangements, but George is dismayed when he is assigned a male practitioner. Then, George's paranoia about men comes into play when he gets a massage from a man and later says "I think it moved." Kramer thinks he has seen DiMaggio in Dinky Donuts. The notes may cause Roy to lose his license in an insurance fraud investigation. Air Date: 9/18/91
THE TRUTH
(Episode 19): When the Internal Revenue Service seeks to audit Jerry, George arranges for his girlfriend, who once worked for the Internal Revenue Service, to help Jerry out. George and his girlfriend break up before she finishes preparing Jerry's papers, leaving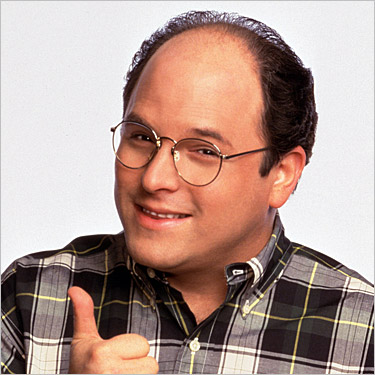 Jerry and George to track her down at a sanitarium. Kramer sees to much of Elaine while dating her roommate. Air Date: 9/25/91
THE PEN
(Episode 20): Jerry and Elaine go to Florida where Jerry's father is being honored by his condominium association. When a friend of the family presents Jerry with a special pen, the gift becomes a source of tension among Jerry, his parents, and the other residents of the condominium. Elaine embarrasses herself when she takes muscle relaxants after sleeping on the Seinfeld's pull-out couch. ...."Stella!". Air Date: 10/2/91

THE DOG
(Episode 21): Jerry is cornered into caring for the dog of a man on a plane when the man is removed from a plane because of a medical emergency. The dog proves to be an absolute terror. Jerry watches the dog, leaving George and Elaine alone together, they find they have little to say to each other without their conversational third, Jerry. Air Date: 10/9/91

THE LIBRARY
(Episode 22): Jerry is informed by the library that he has an overdue book from 1971. Kramer figures that, at a rate of five cents a day, the fine now amounts to $50,000. The library's investigating officer does not like Jerry's attitude. Jerry looks up an old girlfriend for his defense against the library cop. George thinks the homeless man he'd seen outside the library is a former gym high school gym teacher that he got fired. Kramer has his eye on one of the librarians. Elaine worries about her career when her boss hates the recommendations she makes. Air Date: 10/16/91

THE PARKING GARAGE
(Episode 23): Jerry, Elaine, George, and Kramer can't remember where they left Kramer's car in the enormous parking lot of a shopping mall in New Jersey. Jerry and George are arrested for urinating in public. Air Date: 10/30/91

THE CAFE
(Episode 24): From his apartment window, Jerry spies a little cafe that does not seem to be doing any business. Jerry feels sorry for the Pakistani owner and offers him some advice. George concocts a scheme to have Elaine take an IQ test for him. Kramer tries to keep his mother's ex-boyfriend's jacket, because he meets many women with it. Air Date: 11/6/91

THE TAPE
(Episode 25): Kramer tries to record signs of growth with his new video camera. George is excited about a new potential baldness cure that was discovered in China. While listening to a tape of his previous nights show, Jerry hears the voice of a mysterious woman who talks dirty into his tape recorder and everyone becomes excited by the voice. Elaine shines in an entirely new light for George when he is let in on the her secret, she's the voice. He is later driven crazy when she plays around with him while goofing around in front of Kramer's new video camera. George tries the bald cure. Kramer is in search of the jacket. Air Date: 11/13/91

THE NOSE JOB
(Episode 26): George is having problems dating a woman because he dislikes her enormous nose. After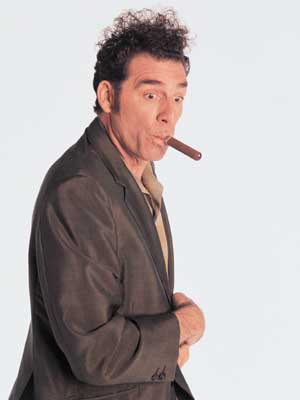 they break up, she gets a nose job and the surgically-corrected Audrey starts dating Kramer. Jerry attempts to overcome his lust for an actress whose intelligence leaves much to be desired. Air Date: 11/20/91

THE STRANDED
(Episode 27): Jerry & Elaine go to a party with George, while there they send signals to each other to get out of bad party conversations. Jerry and Elaine are left without a ride home when George gets lucky at the party. The party's host, who stayed up with the pair during their wait, shows up at Jerry's apartment and gets drunk with Kramer. Later George pays the price for his romance in the workplace (he must quit) George's plan to get revenge on a drugstore clerk backfires when he is caught shoplifting. Air Date: 11/27/91

NOTE: This episode was originally going to be broadcast during the second season on July 17 1991. Jerry comes on before the broadcast of this episode and explains that it is from the time before George lost his job and he wanted to"let you know, that we know, you know."

THE ALTERNATE SIDE
(Episode 28): George fills in for Sid and moves parked cars from one side of the street to the other for residents trying to avoid parking tickets. George learns that the job is harder than it first appeared. When Elaine's older boyfriend suffers a stroke, the paramedics have trouble reaching him because of the confusion created by George's parking mishaps. Kramer gets a line in a Woody Allen film, but gets fired after one take. Air Date: 12/4/91

THE RED DOT
(Episode 29): Jerry is the unwitting cause of Elaine's boyfriend falling off the wagon. Elaine helps George get a job at her publishing company. To show his appreciation, he buys Elaine a sweater that has been marked- down because of a tiny red spot. When George presents the gift to Elaine, he hopes she will not notice the defect. Elaine gives it back, then George gives it to the cleaning woman, to keep her quiet about the fact they had sex on his desk. George is eventually fired from his job. Air Date: 12/11/91

THE SUBWAY
(Episode 30): Jerry, Elaine, George, and Kramer each take the subway: Jerry befriends a fat naked man with whom he spends the day at Coney Island; Elaine gets stuck on a stalled subway on her way to a lesbian wedding; George meets a beautiful con artist who takes him to a hotel, chains him to the bed, and robs him; and Kramer overhears a tip on a sure bet at the races, wins $18,000, and is chased by a shady figure. Air Date: 1/8/92

THE PEZ DISPENSER
(Episode 31): Jerry brings a pez dispenser to a piano concert at which George's girlfriend, Noel, is performing. When Jerry puts the toy on Elaine's leg, she bursts out laughing and leaves the theater. Noel is distraught that someone disrupted the recital. George decides to break up with her before she can end the relationship. Air Date: 1/15/92

THE SUICIDE
(Episode 32): Martin, Jerry's neighbor, tries to kill himself when he thinks his girlfriend, Gina, is coming on to Jerry. While Martin is hospitalized, Gina does make a pass at Jerry. George is warned by a fortuneteller of impending doom. Fearing the worst, George gives his ticket to the Cayman Islands to Kramer. Elaine needs to fast before a x-ray, so she tries stuffing herself three days before the test. Jerry becomes worried when Newman (a friend of Martins) sees him with Gina. Elaine starts hallucinating from hunger. Everything hinges on a Drake's coffee cake. Air Date: 1/29/92

THE FIX-UP
(Episode 33): Elaine and Jerry arrange a blind date between George and Elaine's friend, Cynthia. Expecting it to be a complete failure, they agree to tell each other everything they hear about the date. Tensions rise when they discover that they are each withholding information from the other. There also may be a problem with a defective condom "My boys can swim!". Air Date: 2/5/92

THE BOYFRIEND (one-hour episode)
(Episode 34,35): Jerry meets and becomes friends with Keith Hernandez, but does that mean he must

help Keith move? "No!," says Kramer, who traces his and Newman's hate for Hernandez back to when they were allegedly spit on by him; however Jerry supports the "second-spitter theory". Kramer gets Jerry to accompany him to see a former neighbors new baby. Meanwhile, George is out of time on his unemployment and he works harder than ever in his scheme to get a 13 week extension. Air Date: 2/12/92

THE LIMO
(Episode 36): George's car breaks down on his way to the airport to pick up Jerry. George pretends to be a delayed passenger in order to get a ride in his limousine. While taking the limo they call Elaine & Kramer to join them for an event at Madison Square Garden. When they pick up other people, George and Jerry realize that they are on their way to a Nazi rally and George is the main speaker. Air Date: 2/26/92

THE GOOD SAMARITAN
(Episode 37): Jerry sees a hit-and-run accident and catches up with the fugitive driver, an attractive redhead. He is so taken by her beauty that he forgets about the accident and asks her out on a date. When Jerry discovers that the woman she hit is a beautiful blonde, he feels torn. He tries to act as a mediator between the two women with disastrous results. George has an affair with Elaine's friend. Kramer has violent reactions to Mary Hart's voice. Air Date: 3/4/92

THE LETTER
(Episode 38): Jerry is dating an artist, who is painting a portrait of Kramer. When she gives Elaine, George, and Kramer tickets to a Yankee game, Elaine lies to her boss to avoid going to his son's circumcision. They get ejected from the seats in the owner's box because Elaine refuses to take off her Orioles cap. A photograph of the incident appears in the paper, and Elaine is afraid that her boss will see it. Jerry finds out his new girlfriend is a plagiarist after he hears the words she wrote in a letter, on television. Air Date: 3/25/92

THE PARKING SPACE
(Episode 39): George has a day-long argument with Kramer's friend, Mike, over a great parking spot in front of Jerry's building. Elaine, Jerry, Newman, police, and passers-by argue over proper parking technique. Jerry is skeptical of Elaine's explanation of why it is not her fault that his car was damaged. Kramer tells Jerry about something his friend Mike said about Jerry being "a phony." Air Date: 4/22/92

THE KEYS Season finale
(Episode 40): Jerry takes away his spare set of keys from Kramer after he abuses his entrance privileges. This causes a series of key exchanges among Kramer, Elaine, and George. Realizing that he has broken the "covenant of the keys" gives Kramer the realization he is now free to come out of the shadows. Jerry gave his spare keys to Elaine, then when he needs them, he goes with George(who has her keys) to Elaine's to search for his spare set. What they find is Elaine's show-biz project. Kramer takes off for California to follow his acting dream and lands a job on "Murphy Brown." Air Date: 5/6/92